WSCPA Annual Meeting 2023 WEBCAST
Overview
The WSCPA's two-hour online Annual Meeting is the perfect opportunity for you to stay up to date on the latest developments affecting the accounting profession from the comfort of your own home or office. Meet the incoming WSCPA Board of Directors and learn about the state of the profession, including important developments related to the CPA pipeline. Plus, enjoy a personal development session on how to create spaces where employees can thrive, featuring acclaimed speaker Jeannine Brown.

Whether you're a seasoned CPA or just starting out in your career, this event is a must-attend for anyone looking to stay aware of what's happening in the profession and drive success in their organization.

So why wait? Register now to join us for this exciting virtual event!
This event is a live broadcast of the first two hours of the new WSCPA Membership Summit —a free, in-person event which includes 8 CPE credits.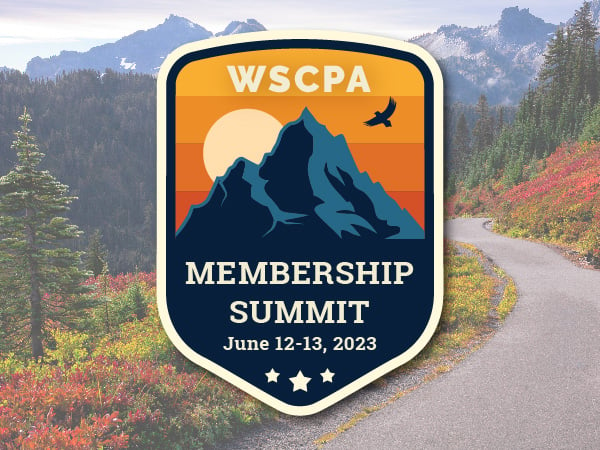 Highlights
The state of the profession. Updates in the pipeline. Psychological safety.
Prerequisites
None.
Designed For
CPAs and others who are members of the WSCPA and are interested in the future of the profession.
Objectives
Stay up to date on the latest industry trends and developments of the profession.
Preparation
None.
This event is part of the following bundles:
Leader Bios
Jeannine Brown
Jeannine K Brown is the founder and Managing Director of Everyday Lead headquartered in Atlanta, Georgia. She is an award-winning leader and thought leader. Jeannine is a highly sought-after speaker and brings insightful perspective and laughter to challenging topics. She has an active role and voice to champion the importance of diversity, equity, belonging and inclusion among individuals, cultures and systems. Jeannine is an active advocate for increasing women and multicultural professionals to corporate executive leadership roles. She works closely with clients, delivering solutions to increase retention, decrease attrition cost, attract new talent, and create competitive advantages through the power of inclusion. Jeannine designs transformational leadership content and DEI content. She is called upon to design leadership and career accelerator programs for women and Black professionals.
Return to Top
Kimberly Scott
Kimberly Scott, CAE, is the WSCPA President & CEO since 2017. She joined the WSCPA in 2000 and has served in various senior leadership roles throughout the organization. From 2009 to 2022, she also served as executive director of the Washington CPA Foundation. While holding the role as WSCPA's vice president of government and member relations, she led the organization's advocacy efforts with the successful drafting and passage of multiple bills through the Washington State legislature, including a bill that brought $3.3 million to the Washington CPA Foundation. The Foundation now provides over $500,000 in accounting scholarships each year. She holds the Certified Association Executive (CAE) credential. She is a graduate of Leadership Eastside's Adaptive Leadership and Executive Insight programs. She also earned her certificate in DEI in the Workplace from the University of South Florida. Kimberly is an active volunteer and has served on many boards, including Chair of the Human Services Commission in her city, Leadership Eastside Board, WSAE Board, ACAP board, and others. She currently serves as the Board Chair for HomewardPet, a no kill pet shelter. She also serves on the AICPAs Women's Initiatives Executive committee, and the WSAEs DEI Task Force.
Return to Top