Not-For-Profit Conference 2023
Member Price $529.00
Non-Member Price $629.00
Overview
Nobody is as focused on how to illuminate their cause like not-for-profit accounting and finance professionals. At the 2023 Not-For-Profit Conference, you'll get the essential guidance you need to stay compliant with accounting and auditing standards and learn about the latest developments related to FASB changes, Forms 990 and 900 T, audit, reporting, compliance, and technology. Get the most out of your conference experience by choosing from two tracks of accounting and auditing topics, including:
FASB update with Jeff Mechanick
Artificial intelligence and change management with Randa Minkarah
Economic update with Steve Scranton
Living through a ransomware attack with Donny Shimamoto
Don't miss the best opportunity all year to learn about NFP developments and connect with others who can relate to the challenges you face every day. Register today for this must-attend event!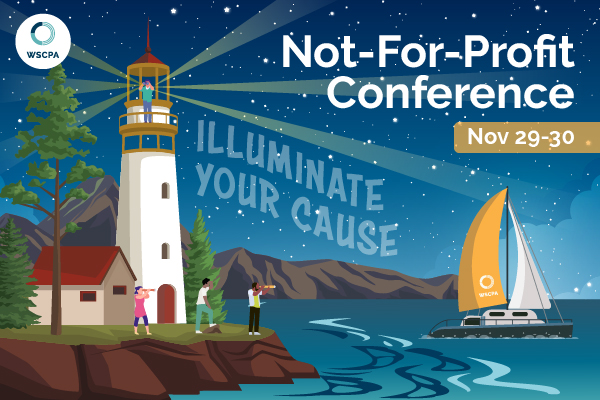 Highlights
The conference will feature a variety of presentations on topics such as:
FASB Update
ASB Update
QuickBooks for your NFP Grant Accounting
AI Tools for Accountants
Board Development
990 Reporting
And more!
Plus, catch up on new and current regulations.
Prerequisites
None.
Designed For
Not-for-profit accounting and auditing professionals.
Objectives
Get guidance on best practices from professionals in the not-for-profit industry.
Provide the latest regulations affecting the not-for-profit sector.
Obtain an updated understanding of single audit and internal controls.
Preparation
None.
Notice
Your conference registration includes free parking (in designated garage), meals (breakfasts and luncheons), and a networking reception (with hors d'oeuvres and refreshments) at the conclusion of the conference on November 29.
AVAILABLE ROOM BLOCKS:
AC Hotel Seattle Bellevue/Downtown
208 106th Place NE
Bellevue, WA 98004
Reservations: 425.625.2450
Room Rate: $219 Standard King and /Double
Check in: Tuesday, November 28, 2023
Check out: Thursday, November 30
Last Day to Book: Sunday, November 12, 2023
Courtyard Marriott Seattle Bellevue/Downtown
11010 NE 8th St, Bellevue, WA 98004
Reservations: 1.800.321.2211
Room Rate: $199 Standard
Check in: Tuesday, November 28, 2023
Check out: Thursday, November 30
Last Day to Book: Saturday, October 28, 2023
Please call the hotel to book your reservation and let them know you are with WSCPA, attending the Washington Society of CPAs Not-for-Profit Conference.
7:00am - 7:50am PST

Sign in and Breakfast
7:50am - 8:00am PST

Welcome and Announcements
8:00am - 9:00am PST

AI and Transformation Randa Minkarah,

President/COO, Resonance AI
Randa Minkarah
Randa Minkarah is a dynamic executive leader advancing industries through her background as a senior executive in technology and media. She is an entrepreneur at heart having founded startups and enjoys building companies, implementing innovative solutions, fundraising, and scaling. She combines extensive sales, management, business development and operational experience with an exceptional ability to drive growth, revenue and profit. Ms. Minkarah has successfully led strategic planning, P&L management, and product development for startups and for established companies. Currently, Ms. Minkarah serves as Chief Operating Officer of MindRiot Entertainment, a Seattle based creative development company. She was co-founder, President and COO at Resonance AI. Resonance AI is a startup in machine learning/artificial intelligence delivering a cloud-based solution for media and entertainment companies. Its platform analyzes video for media and entertainment companies, combining audience data with critical elements in video to determine what engages audiences. RAI was accepted into the prestigious NVIDIA Inception Program in 2019 and chosen by TechCrunch's Disrupt as a top three AI platform in 2020. Prior to RAI, Ms. Minkarah served as Senior Vice President of Revenue and Business Development for Fisher Communications (FSCI), Inc., an integrated media company, until its sale to Sinclair in 2013 where she had corporate responsibility for all revenues at Fisher television, radio and Internet properties and was responsible for developing and implementing its digital strategy including launching mobile applications and mobile viewing apps. Ms. Minkarah led sales teams for FOX, ABC and Univision broadcast stations in Indianapolis, Minneapolis, Salt Lake City and Seattle. Ms. Minkarah is active as a speaker at conferences, advisor to multiple media/technology companies and as an investor in emerging companies. She serves on the Washington Technology and Industry Association's Health Plan board as a Trustee and is President and the chair of the board of the Girl Scouts of Western Washington. She earned a BFA from the University of Cincinnati, College Conservatory of Music in Broadcasting. Ms. Minkarah resides in Seattle with her husband and three German Shepherd rescue dogs.
Explore the transformative power of Artificial Intelligence (AI) with this keynote presentation. Explore how AI serves as a potent ally in navigating organizational shifts, fostering adaptability, and driving sustainable change. Discover how AI is used today, discuss success stories, and review the strategic integration of AI tools to enhance efficiency, mitigate challenges, and achieve impactful transformations. Join us to unlock high-level insights on leveraging AI as a catalyst for positive change in the nonprofit sector.
9:00am - 9:15am PST

Break
9:15am - 10:15am PST

Concurrent Session A01 | Complex, Odd, and Strange NFP Accounting Issues Kathy Ferguson,

Partner, Armanino LLP (Dallas)
Kathy Ferguson
Kathy Ferguson is a Partner at Armanino with a background in the education industry, Kathy has valuable insights into the day-to-day operations of both public and private schools. Her education, prior expertise and dedication enable her to build relationships with nonprofit leaders, helping them address their most pressing challenges. Kathy helps lead the firm's national private school practice, allowing her to share her knowledge and expertise. She leads a phenomenal team of experts focused on being trusted advisors for nonprofit clients as they seek excellence in financial reporting and maintaining a sound internal control environment. She also dedicates her time and attention to leaning into nonprofit and private school business officers through various speaking roles at local, regional and national conferences on topics that include current and upcoming accounting guidance as well as best practices and innovative solutions.
Matthew Gard,

Armanino LLP
Matthew Gard
Matt joined Armanino in 2006 and has over seventeen years of audit experience working predominately with nonprofit organizations in various niches including private education, foundations, social services and the arts. In addition, Matt leads the national Museums & Arts practice for Armanino, a practice that consists of 100+ organizations. Besides audit services, Matt has extensive experience providing nonprofits with various value-added initiatives, including industry best practices, key performance indicators, peer-to-peer benchmarking, and predictive analytics. Matt graduated from Saint Mary's College with a B.S. in Accounting and is a CPA and a member of the American Institute of Certified Public Accountants and California Society of Certified Public Accountants.
Explore the intricate landscape of not-for-profit (NFP) accounting with a focus on the complex, odd, and strange issues commonly encountered in financial reporting. This session delves into the nuances of NFP accounting, shedding light on the peculiar challenges faced by organizations. From revenue recognition pitfalls to net asset classification errors, we will dissect the top ten categories of common financial reporting and disclosure mistakes, providing valuable insights to navigate these complexities.
9:15am - 10:15am PST

Concurrent Session A02 | Single Audit Update Troy Rector,

Shareholder, Clark Nuber PS
Troy Rector
Troy Rector, CPA, is a shareholder in the Not For Profit and Governmental Services Group at Clark Nuber and has spent his career serving tax exempt organizations. He serves a range of tax exempt organizations including low income housing, healthcare and others receiving governmental grant assistance. Troy regularly advises and presents on Uniform Guidance and Single Audit related topics. He is the past chair of the WSCPA Governmental Audit & Accounting Committee, a member of the AICPA's Government Audit Quality Center's Executive Committee and board member of a local school district foundation.
Kelly Rancourt,

Audit Principal, Clark Nuber PS
Kelly Rancourt
Kelly Rancourt, CPA is a Principal in Clark Nuber's Audit and Assurance Services Group. Kelly has over 15 years of experience performing audits for not-for-profit and healthcare organizations. She also performs federal compliance audits. She is a co-author of the annual Knowledge Based Audits of Health Care Entities published by CCH, a Wolters Kluwer Company. She is a member of the American Institute of CPAs (AICPA), the Healthcare Financial Management Association (HFMA), and the WSCPA. She is also a member of the AICPA Not-for-Profit Audit Risk Alert Subcommittee. She speaks locally and nationally on Not-for-Profit and Healthcare accounting topics, as wells as federal grant compliance.
Explore critical aspects and inquiries related to Single Audits, gaining insights into key concerns. Discover valuable resources to guide you through the complexities of your Single Audit, ensuring a comprehensive understanding and effective navigation of the process.
10:15am - 10:35am PST

Break
10:35am - 11:25am PST

State & Local Tax Update Sonjia Barker,

SALT Director, Perkins & Co PC
Sonjia Barker
Adept at simplifying daunting tax situations, Sonjia draws on her Big 4 accounting firm and Washington Department of Revenue experiences to deliver actionable solutions to clients. With her impressive dossier and huge heart for helping others, she's a powerhouse on any tax team and the leader of our SALT practice.
A military kid, Sonjia grew up in Illinois and California but now calls the beautiful Kitsap Peninsula in Washington state her home. Poised between Seattle and the Olympic National Forest, the area is the perfect playground for Sonjia's outdoorsy family. An avid camper, Sonjia is on a quest to visit all the country's national parks, though none may top her favorite—the Badlands.
When she's not sleeping under the stars, you might find Sonjia enjoying a metal concert with thousands of her best friends. She's been a huge Metallica fan since she was 12 and is surprised as anybody that she hasn't outgrown her punk rock phase.
Kimberly Lohr,

Principal, Delap LLP
Kimberly Lohr
Kim specializes in providing state and local taxation advisory and compliance services to her clients. With more than 26 years of experience in state and local tax, she serves a diverse client base in a variety of industries, including manufacturing, financial institutions, transportation, and services to name a few. Kim focuses on multi-state income and franchise tax matters such as nexus, state tax base modifications, apportionment of income, business/non-business income, unitary taxation, gross receipt taxes, allocation of partnership items, state filing options, audit defense and voluntary disclosures. In addition to recommending strategies to minimize clients' state and local tax liabilities, Kim consults on all aspects of state income tax, including participating in mergers and acquisition transactions, due diligence reviews, representation on state tax controversy matters, and assisting companies with state tax compliance and state tax accrual reviews. Prior to joining Delap, Kim was a managing director at BDO USA LLP's state and local tax practice in Seattle. She has also worked for several multi-national companies, including several Fortune 500 companies, a small and mid-sized accounting firm, and a state tax authority. Outside the office, Kim enjoys spending time with her family and traveling, especially to the Disney parks.
Stay informed on State and Local Tax (SALT) regulations affecting non-profit organizations. Get a comprehensive overview of tax fundamentals, key changes, and potential impacts on tax-exempt entities. This session will delve into recent updates and practical insights tailored to the unique tax considerations of not-for-profits.
11:25am - 12:25pm PST

Luncheon
12:25pm - 1:25pm PST

Charitable Registration Compliance Leah Manuel,

Training Supervisor
Leah Manuel
Leah has been with Labyrinth for over 6 years, working directly with charities to help them register to solicit in all required states. She is also currently a Training Supervisor at Labyrinth, teaching state charitable registration to new employees. She has a bachelor's degree in accounting. Before she came to Labyrinth, she was an accountant and worked for American Funds and various smaller organizations. She lives with her family in San Diego, California.
Join us for an insightful session on navigating the complexities of Multi-state Registration Requirements for non-profit organizations. Understanding and complying with regulations across multiple states is crucial for a seamless operation. Gain insights into why and when non-profits need to register in multiple states, exploring key considerations and triggers for registration. Delve into the specific rules and guidelines governing non-profits operating, fundraising, and conducting events across state borders and more. 
1:25pm - 1:40pm PST

Break
1:40pm - 2:30pm PST

Concurrent Session B01 | Closing Best Practices Vicki Welter,

Consultant, Owner, Welter Consulting LLC
Vicki Welter
Vicki Welter found her true calling as a teacher and implementation expert of accounting, grant management, fundraising and document management software solutions for non-profits. Starting her own business in 2013, Welter Consulting has helped many nonprofits optimize software technology so they can focus more resources on the programs and services they provide.
Vicki works closely with clients to craft comprehensive solutions that meet the unique needs of each organization. Providing implementation, training, documentation and expertise in accounting, she enables her clients the tools they need to report to internal management, boards, funders & auditors, making them self-sufficient. Vicki is a certified trainer and offers training throughout the Pacific Northwest helping nonprofit professionals reduce redundancy, manual work, and hassle, maximizing limited resources.
Vicki Welter also consults in the areas of internal control and related documentation, documentation management and in the preparation of financial statements, financial analyses and supporting schedules for audit and tax purposes. Before founding her own firm, Vicki held positions as accounting manager, assistant controller, controller, and everywhere else in accounting and finance, giving her hands-on experience in what it takes to support an organization.
Based in Seattle, Welter Consulting serves nonprofits throughout the Pacific Northwest and is a member of Washington Nonprofit Association, Oregon Nonprofit Association, American Institute of Certified Public Accountants, and the WSCPA. Vicki holds a business degree from Gonzaga University, with a specialty in accounting and has been a CPA since 2002.
In this informative session, you will gain insights into effective practices for closing the financial books at the end of each month, ensuring a smooth and efficient month-end close process for nonprofit organizations. The session will cover the importance of utilizing a well-designed closing checklist to streamline the process and enhance accuracy.
1:40pm - 2:30pm PST

Concurrent Session B02 | Economic Update- Believe What You See Not What You Hear Steve Scranton,

Senior VP, CIO, Washington Trust Bank
Steve Scranton
Steve is the Chief Investment Officer & Economist for Washington Trust Bank and holds a Chartered Financial Analyst designation with over 40 years of investment and economic experience.
In Steve's role as the economist for Washington Trust Bank he participates in public speaking engagements, as well as authoring multiple communications, to keep clients and the public informed of economic and investment market conditions. Throughout the Pacific Northwest, Steve is a well-known speaker on economic conditions and world financial markets.
Given all of the media noise over the outlook for the economy, it may be hard to understand what is truly going on. This session will provide participants with information about the national and state economy and will identify key challenges to be aware of as you plan for next year. The goal is to provide objective and understandable information that assists participants in their planning efforts.
2:30pm - 2:50pm PST

Break
2:50pm - 3:45pm PST

Concurrent Session C01 | QuickBooks for Your NFP Grant Accounting Shareen Corlett,

Clark Nuber PS
Shareen Corlett
As a principal in Clark Nuber's Accounting and Consulting Services Group, Shareen enjoys working with a variety of clients, including privately held businesses and not-for-profit organizations. Shareen has over eleven years of experience in the not-for-profit sector and over 15 years of experience in public accounting. She finds that having close interactions with every client allows her to provide the best possible solutions and services based upon each of their needs.
Nancy Smith,

CFO Selections
Nancy Smith
Nancy Smith is a partner with CFO Selections and is a leader of their not-for-profit practice. She has served a variety of not-for-profits as a consulting CFO, providing fractional, interim, and project-based financial expertise. She holds a bachelor's degree from Seattle Pacific University and an MBA from the University of Washington.
Join our informative session on using QuickBooks for Nonprofit (NFP) Grant Accounting. Learn how to effectively track grant balances, income, and expenses to streamline your organization's financial management. Discover key strategies for utilizing QuickBooks to manage donations, grants, and pledges for your nonprofit.
2:50pm - 3:45pm PST

Concurrent Session C02 | Update from the Auditing Standards Board Andrew Prather,

Audit Shareholder, Clark Nuber PS
Andrew Prather
Andrew Prather is an audit shareholder at Clark Nuber P.S. based in the Seattle metro area. He is a leader in the firm's Not-for-Profit Services Group and provides a wide range of not-for-profit organizations with audit and consulting services.
Andrew is a current member of the AICPA's Auditing Standards Board. He recently served as chair of the planning committee for the AICPA's Not-for-Profit Industry Conference. He previously was a member of the FASB's Not-for-Profit Advisory Committee, the AICPA's Not-for-Profit Expert Panel and also served on the AICPA's Not-for-Profit Entities Audit & Accounting Guide Revision Task Force. Andrew has served as the chair of the WSCPA Not-for-Profit Committee and co-chair of the WSCPA Not-for-Profit Conference. He is a frequent speaker at conferences, seminars, and webcasts for the AICPA, state CPA societies, and industry groups.
Andrew also serves as his firm's Quality Control Director overseeing the firm's audit quality assurance program and serving as a technical resource to the firm's professional staff.
Contact information: aprather@clarknuber.com; 425.635.4571. https://www.linkedin.com/in/andrew-prather-cpa/
Learn about the current activities of the Auditing Standards Board, including the recently effectuated standards and how they will impact planned audit procedures and reporting practices.
3:45pm - 4:00pm PST

Break
4:00pm - 5:00pm PST

Living Through Ransomware Lawrence McClelland,

Associate, K2 Enterprises, LLC
Lawrence McClelland
Mac McClelland, an attorney and accounting professional, is an associate of K2 Enterprises of Hammond, Louisiana, and Network Management Group of Hutchinson, Kansas. Mac was formerly the director of the Centre for Financial Studies at the University of Otago in Dunedin, New Zealand, where he lived and worked for seven years from 1990 to 1997. He was also a member of the faculty of the Advanced Business Programme, ranked in the top 100 MBA programs in the world by The Economist, specializing in business strategy and strategic management accounting. He gained his practical experience in information systems with the National Aeronautics and Space Administration, and has an established practice in business and technology consulting. Mac has taught hundreds of continuing professional education seminars to accountants and business managers in the United States, New Zealand, Australia, Japan, and Southeast Asia. His presentations are highly rated, and he has won several awards for teaching excellence. Mac has been published in leading business and practitioner journals, including Tax Ideas, Computers in Accounting, Journal of Accounting Education, Chartered Accountants Journal of New Zealand, and the top-rated Journal of Accounting Research.
Ransomware attacks can cause significant damage to individuals and organizations, disrupting their operations and compromising their sensitive information. Most security professionals agree that the best ransomware response begins with preparation and prevention. But even in the most prepared organizations ransomware attacks do occur, and the issue shifts to response and remediation. During this session, learn how to reduce ransomware risk through preparation, prevention, and response.
5:00pm - 5:05pm PST

Adjourn
5:05pm - 6:30pm PST

Enlightened Connections Reception
Please join us for an exclusive networking reception, forge meaningful connections, share insights, and foster meaningful relationships in a relaxed and inspiring atmosphere. Engage with fellow CPAs specializing in the nonprofit sector to exchange ideas and build valuable connections. Enjoy an evening of meaningful discussions with like-minded professionals dedicated to the nonprofit sector. Don't miss this opportunity to expand your professional network and collaborate with peers who share your passion for nonprofit accounting.
Thursday, November 30
7:30am - 7:50am PST

Sign in and Breakfast
7:50am - 8:00am PST

Welcome and Announcements
8:00am - 9:15am PST

FASB Update Jeffrey Mechanick,

Assistant Director, Financial Accounting Standards Board
Jeffrey Mechanick
Jeff Mechanick is Assistant Director for Nonpublic Entities at the FASB. In that role, he provides strategic and technical oversight of all activities involving not-for-profit (NFP) organizations and private companies, chairs the FASB's Not-for-Profit Advisory Committee, oversees support of the Private Company Council, and participates in some of the FASB's broader outreach activities. He is also a member of the Technical Advisory Group of the International Financial Reporting for Nonprofit Organizations initiative (#IFR4NPO). Jeff has also been the overall lead staff member for the Blue-Ribbon Panel on Standard Setting for Private Companies and the FASB/IASB Financial Crisis Advisory Group. Prior to joining the FASB staff in 2006, Jeff spent 20 years working in and with the not-for-profit sector, as the CFO of Planned Parenthood Federation of America, Inc., and before that, as a Senior Manager with KPMG, LLP, in the firm's New York office. From 1992 to 1994, he served as the National Technical Senior Manager for the firm's Higher Education, Research, and Other Not-for-Profit Organizations (HERON) practice. He is also a past member of the AICPA's NFP Expert Panel. Jeff received his MBA from Rutgers University and his AB from the University of Chicago, and he is a member of the AICPA and the New York State Society of CPAs. He is also an adjunct instructor in Columbia University's MS program in Nonprofit Management.
During this exclusive session, you are in for an exhilarating dive into cutting-edge updates straight from the Financial Accounting Standards Board (FASB). Brace yourselves for an immersive experience as we unfold a dynamic panorama, offering a comprehensive overview of the FASB's technical agenda. Delve into the heartbeat of financial innovation with real-time status updates and anticipate the unveiling of eagerly awaited issuances. It's not just a session; it's a journey into the forefront of financial excellence!
9:15am - 9:30am PST

Break
9:30am - 10:20am PST

Concurrent Session D01 | Form 990 Update and Comparing Your Audited Financials to Form 990 Katy Brown,

Armanino LLP
Katy Brown
Katy Brown, CPA, leads the firm's Nonprofit Tax practice, a nationwide team of experts who work exclusively with tax-exempt organizations of all types. She works with hundreds of nonprofit leaders throughout the country to help them make smart business decisions that protect their organizations' tax-exempt status and to present transparent and accurate annual public information returns.
Katy has over 15 years of experience in advisory services, which has given her a broad background in nonprofit management and great insight into the needs of the sector. She has clients in the areas of healthcare, social services, foundations and grantmakers, performing arts and museums, animal welfare, conservation, private education, higher education and membership associations.
She is a member of the American Institute of Certified Public Accountants, the California Society of Certified Public Accountants, Washington Nonprofits and the Center for Volunteerism and Nonprofit Leadership. Katy earned a B.A. in Foreign Languages from George Mason University, an M.A. in French literature from the University of Arizona and an M.S. in taxation from Golden Gate University. She currently serves as a board member for the Armanino Foundation and for Family Paths in Oakland, California.
Scott McFadden,

Senior Audit Manager, Armanino LLP
Scott McFadden
Scott McFadden is a Senior Manager at Armanino. His career has spanned more than two decades through a variety of roles in both public and private accounting, the last decade of which he has focused primarily on serving nonprofits of all shapes and sizes. Scott looks forward to working with organizations by helping them tell their story through financial reporting and achieve results in pursuing their missions. As a self-described "accounting nerd", he relishes opportunities to take deep dives into the accounting literature and enjoys being able to communicate on various technical issues while contextualizing them for the nonprofits he works with. Scott looks to be a trusted advisor for an organization's management and governance, always on the lookout to help them overcome challenges, strengthen internal control systems and refine business practices.
During this session, you will gain insights into the latest updates in federal tax regulations, with a focus on Form 990. Take a close look at the instructions for Form 990 Return of Organization Exempt From Income Tax, and gain a comprehensive understanding of this essential document for tax-exempt organizations.
9:30am - 10:20am PST

Concurrent Session D02 | Understanding the 12 Compliance Requirements for Single Audits Aisha Little,

Director, CliftonLarsonAllen LLP (Bellevue)
Aisha Little
Aisha is a director in CLA's assurance practice, providing consulting services and technical assistance to internal teams and external clients. At the start of her single audit career circa 2015, she helped transition clients from A-133 audits to audits performed under Uniform Guidance. Now she helps organizations overcome challenges such as going through a first-time single audit and understanding the nuances of using COVID-specific federal funding. Aisha primarily works with tribal governments, nonprofits, and FQHCs. While single audits are her work passion, her personal passion is backpacking through national parks.
Gain an overview understanding of the compliance requirements organizations receiving Federal funding are subject to. This session will explain what each of the 12 compliance requirements are, and the types of processes and controls a recipient of Federal funds can implement to stay in compliance.
10:20am - 10:40am PST

Break
10:40am - 11:30am PST

Concurrent Session E01 | Strategic Budgeting for Nonprofit Organizations Annie Rose Favreau,

Strategy & Operations Senior Manager, Moss Adams LLP
Annie Rose Favreau
Annie Rose helps mission-driven organizations thrive. As an organizational development consultant, she brings positive energy, practical insights, and a collaborative approach to create clear solutions for complex problems. Her areas of expertise include organizational development, strategic planning, succession planning, governance initiatives, and leadership facilitation. Annie Rose has provided strategy, operations, and governance consulting services to not-for-profits and foundations; local, state, and Tribal governments; and K–12 and higher education clients.
Tommy Conkling,

Strategy and Operations Senior, Moss Adams Capital LLC
Tommy Conkling
Tommy is a problem solver, capacity builder, and meticulous untangler of organizational knots. He is experienced at helping organizations improve efficiency, enhance effectiveness, and cultivate excellence. He collaborates with clients to identify, analyze, and leverage their unique wealth of quantitative and qualitative data, producing actionable insights to inform and improve strategy and operations. Tommy has experience in a wide range of financial, organizational, operational, and strategic assessments, plans, redesigns, and implementations. He particularly enjoys wicked problems at the intersection of finance and operations.
Developing a strategic budgeting process is a critical way for nonprofit organizations to ensure financial health and organizational sustainability. Explore budgeting best practices and different types of budgeting models, and learn how integrating performance measurement into budgeting can help leadership decide on the best uses of the next dollar raised. You will walk away with practical ideas for how to improve the nonprofit budgeting process to increase effectiveness, efficiency, and long-term impact.
10:40am - 11:30am PST

Concurrent Session E02 | Being an Effective Nonprofit Board Member: Sharpening Your Board Skills Liz Swanson,

Valtas Group LLC
Liz Swanson
Liz Swanson is a nonprofit professional, consultant, leader, and educator who has been serving and advancing mission-driven organizations for over 30 years. Her experiences as an Executive Director, Interim Executive Director, Development Director, Board President, and Non-Profit Consultant at a wide range of nonprofits has given her a unique perspective of the ins and outs of organizations and the challenges nonprofit leaders face.
Liz is passionate about all things nonprofit and helping organizations achieve their goals towards long-term success. Being optimistic, inquisitive, and trustworthy are part of her DNA. With business know-how, integrity, a steady style, and sensing ability, Liz takes a highly collaborative approach in partnering to help guide organizational development and build leadership capacity during times of change, transition, and growth.
Liz has been actively engaged in the community since moving to the Pacific Northwest with her family in 2000. She enjoys reading historical fiction and non-fiction, hiking and exploring our beautiful corner of the world, and enjoying good food, wine, and conversation with family and friends (as well as exercising so she can continue to enjoy good food and wine!).
You might be on a nonprofit board or considering joining a board and have some questions:
How can I be an effective board member?
What role do I play in decision-making?
What ways can I actively contribute my finance expertise to the board and organization?
What role do I play to help configure the right group for a board?
How do I engage with and support the Executive Director?
We'll reflect on these questions and more as we work together to hone your board member abilities for board impact. By the end, you'll have the tools and increased understanding of how to be a more effective board of director and how to bring your passion for the cause and finance talents to help advance your organization's mission.
11:30am - 12:30pm PST

Luncheon
12:30pm - 1:30pm PST

Concurrent Session F01 | Uncommon Sense: Getting Back to the Basics of Data Security Tim Carradine,

Founder and Owner, Sapient
Tim Carradine
Tim Carradine has 25 years of experience working in information technology, and 21 years as the owner and operator of Saepient, an IT consulting and management firm serving businesses and non-profits on the beautiful and remote Olympic Peninsula. Combining his expertise and extensive field experience with his personable, down-to-earth charm, he has helped a wide spectrum of organizations—from small city and Tribal governments to non-profits and everything in between—harness the power of technology to drive their missions forward. Striking a balance between the tight budget requirements of rural and non-profit clients and their crucial need to keep up with the ever-changing landscape of complex technology threats and challenges, he has learned to deliver strategic guidance and tailored solutions which allow his clients to better focus their energies on making a meaningful difference in the world. His passion is to help empower people to see through the veil of "wizardry" that so often obfuscates technology and explain complex topics in entertaining and congenial ways.
Data breaches and cyberthreats increase with each passing year. But so often, the weakest link in a company's data security is not their lack of the latest and greatest tech gear, but simple daily practices that cost nearly nothing. Join us for an enlightening session that pushes beyond the technical jargon into the common sense practices that can save your organization a world of woe. In this session, we will explore immediately applicable and practical strategies to fortify your organization's digital defenses by building up your social savvy and implementing simple procedural policies that are so often overlooked. Learn about social engineering, phishing prevention, password and secure document management tactics, MFA, data encryption, and more. Whether you're an independent CPA entrusted with safeguarding your clients' financial well-being, or part of a non-profit accounting department managing internal records and donor contributions, this session aims to equip you with the knowledge, practical skills, and confidence to stay one-step ahead of the bad guys in the ever-evolving world of cybersecurity.
12:30pm - 1:30pm PST

Concurrent Session F02 | Unlocking Financial Sustainability: Navigating Indirect Cost Recovery Dan Durst,

Managing Director, BDO (Virginia)
Dan Durst
Dan Durst is a Managing Director in BDO's Industry Specialty Services Group and has 15 years of experience in various accounting and compliance issues related to federal government contracts, grants and cooperative agreements. Dan's areas of expertise include cost accounting standards (CAS), uniform administrative requirements, cost principles, and audit requirements for federal awards to nonfederal entities (Uniform Guidance), Federal Acquisition Regulation (FAR), Defense Federal Acquisition Regulation Supplement (DFARS), and Defense Grant and Agreement Regulatory System (DGARS). Dan is also well-versed in various levels of audit support including business system reviews, single audit and Inspector General audits. Dan's industry experience includes for-profit, nonprofit, and higher education. He has assisted clients with Business Systems Compliance, Policy and Procedure Development, In-House Training, Indirect Cost Rate Proposal Development, Indirect Rate Structure Assessment, Subrecipient Monitoring Support, Audit Support and Risk Assessment, Audit Findings Remediation, Procurement System Compliance, Internal Controls Assessment, Forensic Investigations, and other regulatory compliance matters. Prior to joining BDO, Dan was an audit supervisor and lead consultant for a member firm of the AICPA's Government Audit Quality Center. He has previously held security clearances with the U.S. Department of Defense, including Secret Clearance. While contracted by the U.S. Department of State, Dan conducted audits and analysis at the U.S. Embassies in 19 foreign countries. He has supervised and performed several Single Audits under both OMB A-133 and the new Uniform Guidance, Subpart F.
Sly Atayee,

Senior Manager, BDO USA
Sly Atayee
Sly Atayee is a Senior Manager in BDO's Nonprofit and Federal Compliance Advisory practice, focused on assisting clients with various aspects of federal compliance and financial management. Examples include: fraud investigations and forensic analysis, grants management, general project management for grantees, internal control assessments, financial process redesign, complex cost recovery calculations, policy and procedure development and support.
Join us for a strategic exploration of Indirect Cost Recovery for nonprofits. During this one-hour session, we will delve into the intricacies of indirect costs, providing valuable insights and strategies to optimize financial sustainability for your organization. You will be equipped with the knowledge to maximize indirect cost recovery efficiently, from understanding the general principles of indirect rates to practical implementation.
1:30pm - 1:45pm PST

Break
1:45pm - 2:45pm PST

Liquor and Fundraising Events: How To Be Compliant Thomas Dixon,

Enforcement Captain, Northwest Region, Washington State Liquor and Cannabis Board
Thomas Dixon
Captain Tom Dixon holds a bachelor's degree in Law and Justice from Central Washington University. He started in public service at the Washington State Department of Revenue in 1988 moved over to the Washington State Liquor and Cannabis Board (Liquor Control Board) in 1990. He served as a Liquor Enforcement Officer for eight years, working directly with licensees, law enforcement, universities, tribes and community leaders in an assigned geographic area. In 1998 he was promoted to Lieutenant and continued working shoulder to shoulder with his Enforcement Officers in the field. He was promoted to the Captain of the Northwest Washington Region in 2006 and has held that position until today.
Elizabeth Lehman,

Washington State Liquor and Cannabis Board
Elizabeth Lehman
Elizabeth Lehman is a customer service and support manager in the licensing and regulation division at the Washington State Liquor Control Board.
Explore the potential pitfalls and unintended outcomes that may arise during fundraising efforts for nonprofit organizations. Understand the nuances of banquet permits, a key aspect in fundraising events. Examine strategies to avoid advertising issues in events involving alcohol, ensuring adherence to relevant regulations. Gain insights into collaborating with liquor distributors, breweries, and wineries, offering practical tips for successful partnerships.
2:45pm - 3:00pm PST

Break
3:00pm - 3:50pm PST

Concurrent Session G01 | Revenue Recognition Case Studies Michaela Kay,

Partner, BDO USA LLP
Michaela Kay
Michaela Kay, CPA, has more than 13 years of professional accounting experience, providing audit and tax services to the Greater Seattle area. Currently, she serves as the practice leader for the BDO Seattle office's Government and Nonprofit practices. Michaela is able to bring a unique perspective to her clients as she spent two years working for World Vision as a lead senior accountant. This experience provides her with the ability to understand and relate to her clients on a practical level, including performing financial statement audits, internal control testing, single audits, program specific audits, and preparation of Form 990, while also being able to provide them with a superior client experience. One of Michaela's strongest attributes and biggest value adds for her clients is her ability and desire to assist with complex audit or accounting challenges. Relying on her foundational commitment to build robust relationships with her clients and getting to know their business on an intimate level, she is able to be proactive in identifying business challenges and working with her clients to find a solution. Michaela is one of BDO's Audit Quality Directors (AQD). As an AQD, Michaela is actively involved in staff training and the other quality control measures. In addition to internal training at BDO, she regularly teaches courses on single audits and other nonprofit accounting and auditing topics for the WSCPA and Thompson Grants. In her free time, Michaela spends time with her family, two dogs, baking, traveling the world, or relaxing with a good book.
Veronica Cook,

BDO USA LLP
Veronica Cook
Veronica is an audit director who has worked for more than 12 years in public accounting. She provides audit services to various nonprofit clients with valuable experience in financial statement audits and Single Audits. She leads the local office's Single Audit niche and is a member of the firm's Nonprofit team. 
Veronica also leads her office's core value team, enhancing employee satisfaction and well-being through various appreciation initiatives. She is actively involved in staff training and other quality control measures. In addition to internal training at BDO, she regularly teaches external courses on Single Audits and other nonprofit accounting and auditing topics. She serves as the treasurer for Team Read.
Explore the dynamic realm of financial reporting obligations for non-profit entities, emphasizing revenue recognition. Stay informed on the most recent updates in US tax regulations and adopt best practices to adeptly navigate these changes within the unique framework of not-for-profit organizations.
3:00pm - 3:50pm PST

Concurrent Session G02 | Responding to Audit Findings and Management Letter Comments Aisha Little,

Director, CliftonLarsonAllen LLP (Bellevue)
Aisha Little
Aisha is a director in CLA's assurance practice, providing consulting services and technical assistance to internal teams and external clients. At the start of her single audit career circa 2015, she helped transition clients from A-133 audits to audits performed under Uniform Guidance. Now she helps organizations overcome challenges such as going through a first-time single audit and understanding the nuances of using COVID-specific federal funding. Aisha primarily works with tribal governments, nonprofits, and FQHCs. While single audits are her work passion, her personal passion is backpacking through national parks.
Learn about the categories of findings that auditors may identify and the responses auditees are expected to provide depending on the type and severity of a finding. Discover issues that may come up during a financial statement audit (management comments, significant deficiencies, material weaknesses, and other communication with governance) and findings that may arise specific to single audits (significant deficiencies in internal controls over compliance, material weaknesses in internal controls over compliance, and material noncompliance).
3:50pm - 4:10pm PST

Break
4:10pm - 5:00pm PST

Embracing Inclusive Leadership in the Era of Digital Transformation: Your Insight for Navigating Multicultural Environments Pooja Sund,

Keynote Speaker, Microsoft
Pooja Sund
Pooja Sund is a globally recognized expert in the fields of AI, ML, data science, finance, and engineering. As a Hall of Fame inductee for Global Women in Tech 2023, Pooja's influence and impact have extended far beyond her professional achievements. A Gold medalist and three-time CFO Award winner at a Fortune 50 company, Pooja's credentials speak volumes about her dedication and excellence in her career. Her groundbreaking technology work has earned her invitations to present to CEO and leadership teams. With 18 years of experience, Pooja has consistently set visionary goals and demonstrated her ability to lead high-performing teams to success. Her passion for championing diversity and inclusion has been recognized through the Highest Award for Leadership in 2018.
Currently serving as the Director of Engineering (Principal PM) at a Fortune 50 company, Pooja's expertise lies in technology, data analytics, and leadership. She also holds positions as a board member at Pacific Northwest University and CEO of 3PSkyConsulting LLC.
Pooja is an avid speaker, having delivered over 250 talks worldwide to inspire diversity in tech and collaborate with global organizations. Her speaking engagements include renowned organizations such as FBI, Pepsi, Coca-Cola, USPS, IIA National, and international customers. Pooja's insights and expertise have garnered attention from various reputable publications, including LinkedIn news, Puget Sound Business Journal, and many others.
During this session, you will learn how to be an inclusive and culturally aware leader, build inclusive teams, and be aware of bias while collaborating with individuals from diverse backgrounds. Pooja Sund, an inspiring technology and finance leader, will guide you on the closing portion of illuminating your cause. Throughout this captivating talk, you will gain valuable insights into the following areas:
The Power of Inclusive Leadership: Discover the significance of cultural intelligence and effective collaboration in becoming an inclusive leader who empowers and uplifts their team.
Building Inclusive Teams: Learn how to create a cohesive and harmonious environment within your teams by fostering clarity, seeking common ground, and supporting team members.
Unveiling SEEDS Bias Categories: Explore the concept of bias through the lens of SEEDS -- Similarity, Expedience, Experience, Distance, and Safety -- and understand how recognizing these biases can lead to more equitable collaboration.
Navigating Multicultural Environments: In the ever-evolving terrain of digital transformation, acquire best practices and tools to effectively navigate multicultural settings, ensuring a successful and harmonious workplace.

Join us for this illuminating session and equip yourself with the essential knowledge and skills to become a truly inclusive and culturally aware leader in today's diverse and dynamic world.
5:00pm - 5:05pm PST

Adjourn
Non-Member Price $629.00
Member Price $529.00
Registration for this event is closed.