Not-For-Profit Conference 2023 WEBCAST
Member Price $529.00
Non-Member Price $629.00
Overview
Nobody is as focused on how to illuminate their cause like not-for-profit accounting and finance professionals. At the 2023 Not-For-Profit Conference, you'll get the essential guidance you need to stay compliant with accounting and auditing standards and learn about the latest developments related to FASB changes, Forms 990 and 900 T, audit, reporting, compliance, and technology. Get the most out of your conference experience by choosing from two tracks of accounting and auditing topics, including:
FASB update with Jeff Mechanick
Artificial intelligence and change management with Randa Minkarah
Economic update with Steve Scranton
Living through a ransomware attack with Donny Shimamoto
Don't miss the best opportunity all year to learn about NFP developments and connect with others who can relate to the challenges you face every day. Register today for this must-attend event!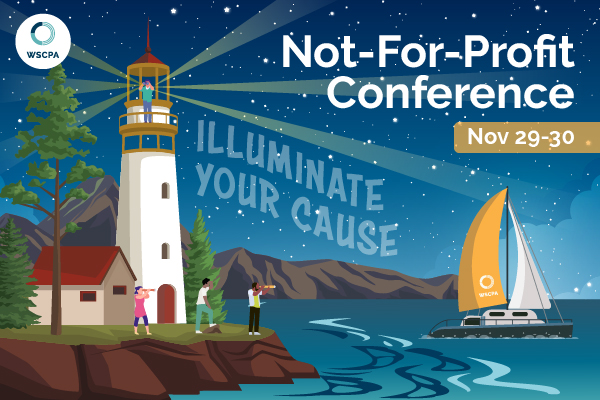 Highlights
The conference will feature a variety of presentations on topics such as:
FASB Update
ASB Update
QuickBooks for your NFP Grant Accounting
AI Tools for Accountants
Board Development
990 Reporting
And more!
Plus, catch up on new and current regulations.
Prerequisites
None.
Designed For
Not-for-profit accounting and auditing professionals.
Objectives
Get guidance on best practices from professionals in the not-for-profit industry.
Provide the latest regulations affecting the not-for-profit sector.
Obtain an updated understanding of single audit and internal controls.
Preparation
None.
Wednesday, November 29
7:30am - 7:50am PST

Login and Welcome Screen
7:50am - 8:00am PST

Welcome and Announcements
8:00am - 9:00am PST

AI and Change Management

Randa Minkarah, President/COO, Resonance AI
9:00am - 9:15am PST

Break
9:15am - 10:15am PST

Trends in Northwest Philanthropy
10:15am - 10:35am PST

Break
10:35am - 11:25am PST

State & Local Tax Update Sonjia Barker,

SALT Director, Perkins & Co PC
Sonjia Barker
Sonjia Barker, CPA, has more than 18 years of experience in state and local taxes, including several years as a lead auditor with the Washington State Department of Revenue, and a B&O tax program auditor at the City of Kent. Sonjia routinely assists clients with Washington tax matters in the areas of audits and appeals, refund requests, voluntary disclosure and amnesty, letter rulings, tax planning and structuring, tax incentives, and nexus analysis. She assists clients with multi-state sales/use and income/franchise tax matters, and has a broad range of state and local tax experience in the hospitality and consumer products, automotive, biotechnology, construction, manufacturing and distribution, non-profits, professional services, software, and technology industries. She is a member of the American Institute of Certified Public Accountants, the Washington Society of Certified Public Accountants, and the Institute for Professionals in Tax. She earned her bachelor's degree in business administration from the University of Washington.
Kimberly Lohr,

Delap LLP
Kimberly Lohr
Kimberly Lohr has more than 24 years of experience, with most of those years focused entirely on State and Local Taxes (SALT). She has worked for several multi-national companies including several Fortune 500 companies, a mid-size public accounting firm and for a state tax authority. Kim works primarily on multi-state income tax matters including nexus, allocation and apportionment, business/non-business income, audit defense and voluntary disclosures in a wide variety of industries. She is focused on identifying opportunities and providing practical solutions to complex state issues. Kim enjoys working in SALT due to the complexity of the field and its ever-changing nature. Most recently, she has been focusing on the new federal tax law and closely monitoring how the changes will affect each state. When she's not working with state taxes, Kim enjoys spending time with her husband and son. She enjoys taking family trips to destinations including Europe, Mexico and the Caribbean, but her absolute favorite place in the world to visit is Disney World.
11:25am - 12:25pm PST

Lunch Break
12:25pm - 1:25pm PST

Economic Update Steve Scranton,

Chief Trust Investment Officer, Washington Trust Bank
Steve Scranton
Steve Scranton is the Chief Investment Officer and Economist for Washington Trust Bank and is a CFA charter holder with over 30 years of investment experience. As Washington Trust Bank's Chief Investment Officer, Steve is responsible for the management of the Portfolio Management Group and actively participates on committees within the bank to help design strategies, policies and procedures related to client and bank-owned investments. Steve serves as the Economist for Washington Trust Bank and participates in public speaking engagements, as well as authoring multiple communications to keep our clients informed of economic and investment market conditions. Throughout the Pacific Northwest, Steve is a well-known speaker on the economic conditions and investment securities markets.
1:25pm - 1:40pm PST

Break
1:40pm - 2:30pm PST

Closing Best Practices Vicki Welter,

Consultant, Owner, Welter Consulting LLC
Vicki Welter
Vicki Welter found her true calling as a teacher and implementation expert of accounting, grant management, fundraising and document management software solutions for non-profits. Starting her own business in 2013, Welter Consulting has helped many nonprofits optimize software technology so they can focus more resources on the programs and services they provide.
Vicki works closely with clients to craft comprehensive solutions that meet the unique needs of each organization. Providing implementation, training, documentation and expertise in accounting, she enables her clients the tools they need to report to internal management, boards, funders & auditors, making them self-sufficient. Vicki is a certified trainer and offers training throughout the Pacific Northwest helping nonprofit professionals reduce redundancy, manual work, & hassle, maximizing limited resources.
Vicki Welter also consults in the areas of internal control & related documentation, documentation management and in the preparation of financial statements, financial analyses and supporting schedules for audit and tax purposes. Before founding her own firm, Vicki held positions as Accounting Manager, Assistant Controller, Controller, and everywhere else in accounting and finance, giving her hands-on experience in what it takes to support an organization.
Based in Seattle, Welter Consulting serves nonprofits throughout the Pacific Northwest and is a member of Washington Nonprofit Association, Oregon Nonprofit Association, American Institute of Certified Public Accountants, and the Washington Society of Certified Public Accountants. Vicki holds a business degree from Gonzaga University, with a specialty in accounting and has been a CPA since 2002.
2:30pm - 2:50pm PST

Break
2:50pm - 3:40pm PST

QuickBooks for Your NFP Grant Accounting

Shareen Corlett, Clark Nuber PS

Nancy Smith,

CFO Selections
Nancy Smith
Nancy Smith is a partner with CFO Selections, and is a leader of their not-for-profit practice.  She has served a variety of not-for-profits as a consulting CFO, providing fractional, interim, and project-based financial expertise.  She holds a BA from Seattle Pacific University and an MBA from the University of Washington.
3:40pm - 4:00pm PST

Break
4:00pm - 5:00pm PST

Living Through Ransomware Donny Shimamoto,

Founder & Managing Director, Donny C. Shimamoto Intraprise TechKnowlogies LLC
Donny Shimamoto
Donny Shimamoto is the founder and managing director of IntrapriseTechKnowlogies LLC, an advisory-focused CPA firm focused on innovation acceleration and organizational development for small businesses, middle market organizations, and nonprofits. Donny is a recognized thought leader and educator in the fields of accounting technology, IT risk management, and performance management. His dedication to helping accountants and organizations strategically leverage technology while proactively managing their business and technical risk is paramount. Donny also serves as an business transformation advisor and outsourced "IT partner" for local & regional firms, finance departments, and internal audit departments who lack in-house IT executive leadership and IT audit expertise; he helps with risk assessments, IT-related advisory services, development of innovation strategies, streamlining of internal firm/department operations, and increasing staff proficiency with IT tools supporting internal operations and accounting/audit services delivery. Donny was recognized as one of the Top Thought Leaders in Public Accounting by CPA Practice Advisor from 2012 to 2020, Top 100 Most Influential People in Accounting (2013/2014/2017-2020) by Accounting Today, received the 2009-2010 President's Award from the Hawaii Society of CPAs, was named to CPA Technology Advisor's 40 Under 40 list in 2007 & 2009 & 2014, and was also a Hawaii Top High Tech Leader in 2004.
5:00pm - 5:05pm PST

Adjourn
Thursday, November 30
7:30am - 7:50am PST

Login and Welcome Screen
7:50am - 8:00am PST

Welcome and Announcements
8:00am - 9:15am PST

FASB Update Jeffrey Mechanick,

Assistant Director, Financial Accounting Standards Board
Jeffrey Mechanick
Jeff Mechanick is Assistant Director for Nonpublic Entities at the FASB. In that role, he provides strategic and technical oversight of all activities involving not-for-profit (NFP) organizations and private companies, chairs the FASB's Not-for-Profit Advisory Committee, oversees support of the Private Company Council, and participates in some of the FASB's broader outreach activities. He is also a member of the Technical Advisory Group of the International Financial Reporting for Nonprofit Organizations initiative (#IFR4NPO). Jeff has also been the overall lead staff member for the Blue-Ribbon Panel on Standard Setting for Private Companies and the FASB/IASB Financial Crisis Advisory Group. Prior to joining the FASB staff in 2006, Jeff spent 20 years working in and with the not-for-profit sector, as the CFO of Planned Parenthood Federation of America, Inc., and before that, as a Senior Manager with KPMG, LLP, in the firm's New York office. From 1992 to 1994, he served as the National Technical Senior Manager for the firm's Higher Education, Research, and Other Not-for-Profit Organizations (HERON) practice. He is also a past member of the AICPA's NFP Expert Panel. Jeff received his MBA from Rutgers University and his AB from the University of Chicago, and he is a member of the AICPA and the New York State Society of CPAs. He is also an adjunct instructor in Columbia University's MS program in Nonprofit Management.
9:15am - 9:30am PST

Break
9:30am - 10:20am PST

Form 990 Update and Comparing your Audited Financials to Form 990
10:20am - 10:40am PST

Break
10:40am - 11:30am PST

Complex, Odd, and Strange NFP Accounting Issues
11:30am - 12:30pm PST

Lunch Break
12:30pm - 1:30pm PST

Technology Trends and Related Risks
1:30pm - 1:45pm PST

Break
1:45pm - 2:45pm PST

Unintended Consequences of Fundraising
2:45pm - 3:00pm PST

Break
3:00pm - 3:50pm PST

Revenue Recognition Case Studies Michaela Kay,

Partner, BDO USA LLP
Michaela Kay
Michaela has more than 13 years of professional accounting experience, providing audit and tax services to the Greater Seattle area. Currently, she serves as the practice leader for the BDO Seattle office's Government and Nonprofit practices. Michaela is able to bring a unique perspective to her clients as she spent two years working for World Vision as a lead senior accountant. This experience provides her with the ability to understand and relate to her clients on a practical level, including performing financial statement audits, internal control testing, single audits, program specific audits, and preparation of Form 990, while also being able to provide them with a superior client experience. One of Michaela's strongest attributes and biggest value adds for her clients is her ability and desire to assist with complex audit or accounting challenges. Relying on her foundational commitment to build robust relationships with her clients and getting to know their business on an intimate level, she is able to be proactive in identifying business challenges and working with her clients to find a solution. Michaela is one of BDO's Audit Quality Directors (AQD). As an AQD, Michaela is actively involved in staff training and the other quality control measures. In addition to internal training at BDO, she regularly teaches courses on single audits and other nonprofit accounting and auditing topics for the Washington Society of CPAs and Thompson Grants. In her free time, Michaela spends time with her family, two dogs, baking, traveling the world, or relaxing with a good book. INDUSTRY FOCUS Government and Nonprofit VOLUNTEERISM Launch Learning, Finance Committee MemberWellspring Family Services, Treasurer PROFESSIONAL AFFILIATIONS American Institute of Certified Public Accountants Washington Society of Certified Public Accountants EDUCATION B.B.A., Accounting, Pacific Lutheran University
Veronica Cook,

BDO USA LLP
Veronica Cook
Veronica is an audit director who has worked for more than 12 years in public accounting. She provides audit services to various nonprofit clients with valuable experience in financial statement audits and Single Audits. She leads the local office's Single Audit niche and is a member of the firm's Nonprofit team.  Veronica also leads her office's core value team, enhancing employee satisfaction and well-being through various appreciation initiatives. She is actively involved in staff training and other quality control measures. In addition to internal training at BDO, she regularly teaches external courses on Single Audits and other nonprofit accounting and auditing topics. ? She values compassion and commitment to her work and looks forward to taking on new challenges. By being passionate about providing the right resources to her clients, Veronica finds herself a part of the difference in the lives that they are changing. She serves as the treasurer for Team Read.
PROFESSIONAL AFFILIATIONS American Institute of Certified Public Accountants  Team Read, Finance Committee Washington Society of Certified Public Accountants, Not-For-Profit?Committee
EDUCATION B.A., Accounting, Seattle Pacific University  B.A., Business Administration, Seattle Pacific University
3:50pm - 4:10pm PST

Break
4:10pm - 5:00pm PST

Board Development

Liz Swanson, Valtas Group LLC
5:00pm - 5:05pm PST

Adjourn
Leader(s):
Liz Swanson,

Valtas Group LLC

Randa Minkarah,

President/COO, Resonance AI

Shareen Corlett,

Clark Nuber PS
Non-Member Price $629.00
Member Price $529.00