Fraud Conference 2023 WEBCAST
Member Price $379.00
Non-Member Price $479.00
Overview
The waves of fraud are crashing against our shores. Even the most vigilant CPAs can be susceptible to fraud. Bad actors are constantly finding new ways to defraud your clients or organization. Don't let the floodwaters of fraud wash away your business.
Join us at the Fraud Conference to learn how to stop fraud in its tracks. Hear real-life case studies from CPAs who have faced fraud head-on. Whether you work in public accounting, industry, or government, you will gain an understanding of how recent fraud cases unfolded and navigate the treacherous waters of fraud with confidence.
This conference is your chance to learn how to keep your organization afloat in the face of fraud.
Don't miss out.
Register today!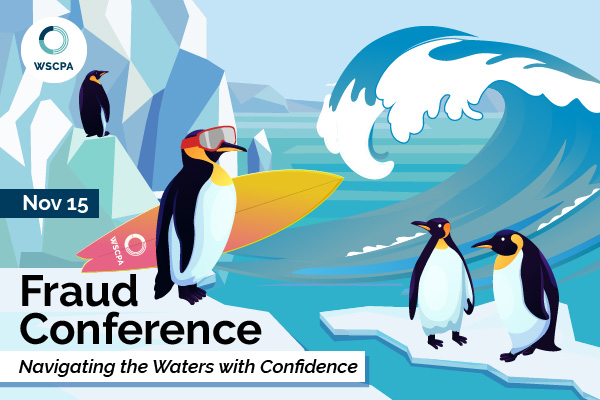 Highlights
Cybersecurity. Financial Crimes. Testimonial tools and best practices.
Prerequisites
None.
Designed For
Public accounting, industry, or government CPAs. 
Objectives
Fraud Prevention
Testimony tools and best practices
Recovery from Fraud Loses

Preparation
None.
Leader Bios
Stan Stahl,
Founder/President, Secure The Village
Dr. Stahl is the founder and President of SecureTheVillage, a 501(c)3 non-profit making a vital difference in the ability of mid-size and smaller organizations and individuals to protect their sensitive information and manage their privacy. This is accomplished by organizing the community of cybersecurity and privacy leaders to provide education, support, and advocacy to this underserved community, both in Los Angeles and throughout the nation. SecureTheVillage is a proud member of Nonprofit Cyber, the first-of-its-kind coalition of global nonprofit organizations to enhance joint action to improve cybersecurity.
Dr. Stan Stahl has a long history in cybersecurity, having begun his information systems security career in the 1980s as a research scientist at MITRE. During his early years he secured Top Secret teleconference and database systems for the White House, Cheyenne Mountain, and America's nuclear weapons arsenal. In 2002 Stan founded Citadel Information Group — now part of Miller Kaplan —to bring sound information security management practices to midsize and smaller organizations
Dr. Stahl has a long history of community service. He currently serves on the Small Business Advisory Council of the Cyber Readiness Institute, the Advisory Board of US Valor, and the Advisory Board of Los Angeles Cyber Lab.
Dr. Stahl earned his Ph.D. in mathematics from The University of Michigan. He is the author of The Agnostic Patriot: A Citizen Searches for the Soul of America.
Return to Top
Non-Member Price $479.00
Member Price $379.00